Freelancing – a growing path of new generation that gaining significant popularity in Bangladesh. Freelancers are becoming instrumental in digital transformation and foreign currency reserve through their continuous effort. Talking about freelancing and freelancers become a notion while talking about Bangladesh's growth and progress. However, very few really understand the challenges faced by the freelancers.
After having all the struggles of doing the job and getting paid by clients, freelancers face major obstacles to get the money. It requires to pay fees to get the payment from marketplaces and then additional charge applicable to receive the money in local currency or in cash.
When the sector offers huge potentials for financial institutions, they need to address the pain point of the freelancers with offered value proposition. Well, I believe upay in association with Payoneer intended to do the same.
What are the Benefits of upay-Payoneer Partnership?
With Partnership with Payoneer, upay bring benefits to the freelancer community big time. It offers some unique benefits to the freelancers be it in terms of edge of use, availability or cost. Besides instant transfer from Payoneer to upay, the customer can withdraw as low as USD 5. Furthermore, the partnership benefits users opening Payoneer account from upay seamlessly. And in cost perspective, upay offers lowest cash out charge in Bangladesh (without any hidden conditions covered under a small star placed somewhere in the communication). The applicable cash out charge of fund withdrawn from Payoneer to upay is 1% from upay agent and free from UCB ATMs.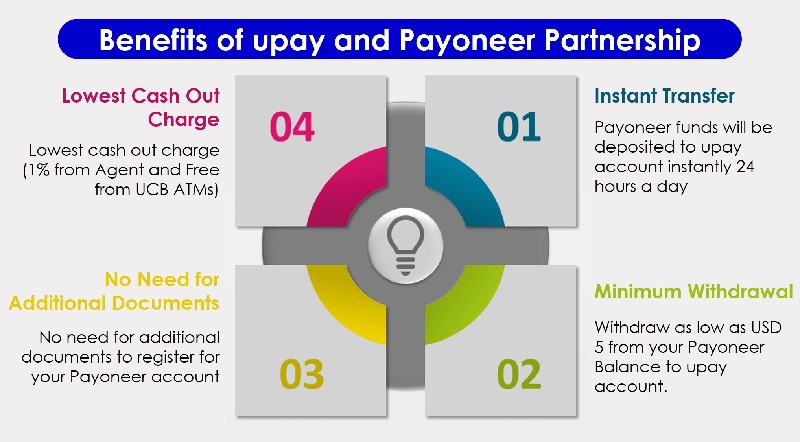 How upay offers the lowest cash out charge for freelancer withdrawal?
The beauty of upay is its 'Multi Wallet' feature. With this feature, upay is giving the best possible value proposition for freelancers in Bangladesh. Due to multiple wallet option in upay, the cash out charge is dynamic for customers. When a customer withdraw fund from Payoneer to upay, the amount deposited in remittance pocket. As the cash out charge is dynamic, customer enjoy the cash out cost of remittance pocket. Good thing is that, though Bangladesh Govt. is not giving incentive like wage earners remittance, upay considering the freelancer payment as remittance!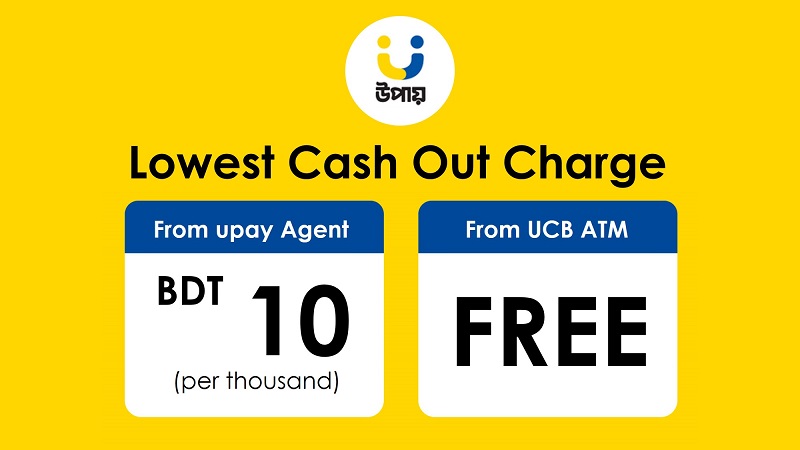 Cash Out from Remittance Pocket offers lowest charge in the market. Compared to other MFS, lowest charge is loud and clear enough.
Cash Out from upay Agent: While freelancer cash out the amount through upay, the charge is 1% of transaction amount at upay agent points.
Cash Out from UCB ATMs: While freelancer withdraw the amount through upay, he/she can enjoy FREE cash out at UCB ATMs.
What is EXTRA in upay if NOT in Banks?
Well, not only upay there are several other options available for freelancers to withdraw money from Payoneer. There are some cost related benefits in case of bank withdrawal. If so, then what is there in extra with upay withdrawal? A valid concern, of course! Though few banks in Bangladesh offer freelancers payment withdrawal service to bank account, upay stand tall in several aspects.
| | | |
| --- | --- | --- |
| Aspect | Bank | upay |
| Accessibility | To withdraw the money in bank account, having account is mandatory. And bank account opening is time consuming and requires lot of documentation. | Whereas, opening a upay account is just click away. Only NID card is required to open upay account. |
| Convenience | Getting banking service requires a specific time frame to be followed. You need to do banking when the banks are available to serve you. | But upay offers you 24/7 service anytime from anywhere. The integration gives seamless experience of doing things conveniently. |
| Availability | Banking service channel are very limited. Be it branch or ATMs – the availability of the channels is not wide opened. | While, upay offers its service through more than 100K agent points nationwide. |
| Cost | Yes, bank offers free withdrawal from ATMs (debit card). | Same goes for upay… cash out from ATM through upay is FREE for freelancers. |
What the Partnership Works?
The scope of the partnership between upay and Payoneer includes –
Registration of Payoneer Account from upay app;
Linking of an existing Payoneer Account with upay;
Withdraw Payoneer Amount to upay wallet.
The high-level user journey can be illustrated as below –
New Payoneer Account Registration
Download upay app
Login
Select 'Payoneer' from 'Other Services'
Select 'Create New Payoneer Account'
Accept consent for going to external website.
Complete Payoneer Registration Form
Allow upay to access your Payoneer account
Payoneer account approval status will be communicated with customer through email
Connect Payoneer Account
Download upay app
Login
Select 'Payoneer' from 'Other Services'
Select 'Connect Existing Payoneer Account'
Sign in to your Payoneer account with 2FA
Allow upay to access your Payoneer account
Account connection complete
Remove Payoneer Account
Open upay app
Login
Select 'Payoneer' from 'Other Services'
Select 'Remove' under Payoneer account information
Select 'Yes' to confirm
Account removal complete
Payoneer Withdrawal
Open upay app
Login
Select 'Payoneer' from 'Other Services'
Select the balance you want to withdraw from
Enter withdrawal amount in the respective currency and reference if applicable
View the exchange rate
Select 'Withdraw Now'
Select 'Confirm' to accept Terms and Conditions.
Submit your two-step verification code
Enter upay PIN and confirm
Wait for withdrawal confirmation
Withdrawal complete
From freelancer point of view this partnership bring a new dimension on cost and convenience perspective. Hope upay will bring more value for freelancers' community through it innovation in future. For now, lets celebrate the LOWETS COST offer from upay!
Source: